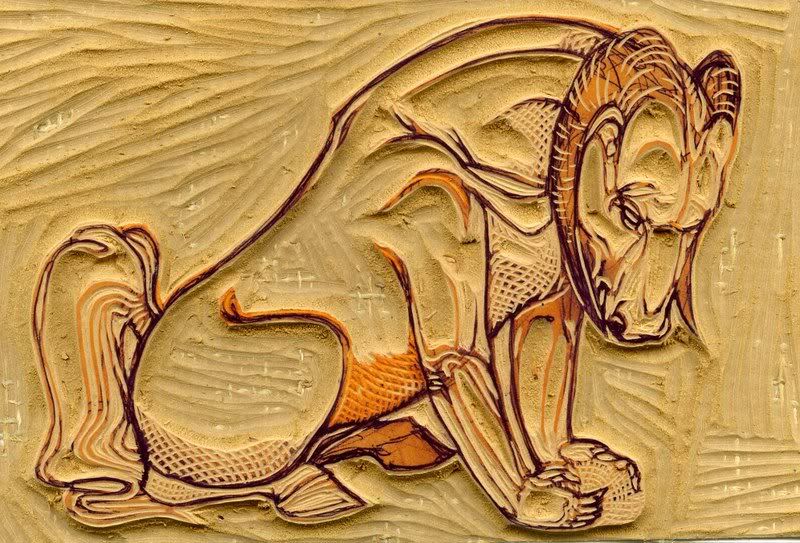 A nice man by the name of Josef Beery came to visit me the other day a few weeks back. He is fellow block carver/printer here in Charlottesville and he is teaching a class at UVA on Beastiaries. Beastiaries are books containing fabulous animals usually accompanied by moral reasons why the animals exist or function. He invited me to join the class to offer my two cents on block carving. We had a visit to the rare books collection and saw some pretty amazing pieces from the time period. There were books set in hand carved wood type similar to the font Tudor Black! There were stunning woodcuts on vellum and handpainted images. We even saw an original worm eaten wood block for an herbal tome and a real illuminated prayer book. It was a very cool experience!
Our job now is to make a beast ourselves. We made newsprint leaflets to sketch in (more posts on that later) and after many neat creatures, I decided to revisit Harvey. Harvey is a creature and favorite of my design and he is creation that is 11 years old this year. He is a very strong beast with sharp teeth but I wanted to render him for this book in a more soft and quiet moment. He is seated inspecting a treasure of sorts. I really had fun carving this piece of linoleum and had fun watching everyone else carve and create as well. There are some really creative minds in our class!
I hope the hatching for the shining object comes through. I really didn't know what to put in his hands and I think the viewer would have more fun anyway trying to guess at what he's got. I did the hatching and hauches for this image with inspiration from an old book my mother had as a child called "A Leg at each Corner" about the trials and errors of horse ownership. A must read if you ever see it in a musty old bookstore.